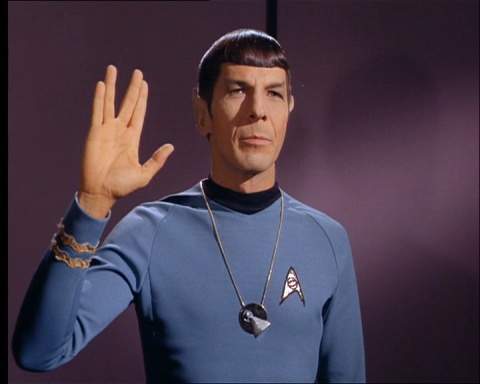 Out of the mouths of Vulcans
One of the great things about sites like Facebook is that every now and then a half forgotten name from the past pops into your head, you rattle it into the search box and up they pop. It can be fascinating and enjoyable to see what someones journey through life has been since it diverged from yours.
So I was happy to see an old friend of mine from university called Gordon on there, someone I'd not seen in ten years. He seemed to have a wife and kids, stuff we'd talked about back when it was in the distant future.
He and his girlfriend Tess were American exchange students at Swansea University. Me and Gordon got on incredibly well. We hung around together, travelled to Ireland together and he came to stay at my parents.
Gordon was a pretty political guy. I suppose he was fairly left wing by American standards which is to say not very by British standards. It was from him, a gun owner and recreational shooter, and not Charlton Heston, that I first heard the phrase "From my cold, dead hand" But he supported the rights of any group you care to name; gays, African-Americans, Native Americans, 'diversity' was his watchword.
So when I sent him an email saying hi and asking how he was I was dismayed to get this reply
"Things are good! Thanks. I read some of your writings and, well, have a nice life. I hope the whole conservative thing works out for you"
When he'd finished typing he blocked me. Apparently Gordon's support for diversity stops short of people's politics. That is a diversity too far.
I think that's sad. Beyond having the memory of a nice guy and friend tainted he isn't even right; like Margaret Thatcher's idol Freidrich von Hayek, I am not a conservative. I'm a liberal.
I don't mean that in the sense that it is used in America where it has become a term for what, in Europe, we would call social democrats. I mean it in the original, enlightenment sense, of being a believer in the sovereignty of the individual.
This is why I am not a conservative. There are still very many areas where the scope for free people to pursue their welfare and that of others, to map out their own paths and define their own destinies is hobbled. I do not want to conserve this.
So much for semantics. The real sadness here is a lost friendship. And for what? Because he didn't like my politics? Many don't. I don't like theirs.
But there is more to each of us than that. Human beings are deep, complex, fascinating creatures. There is more to each of us than our politics, our social class, our nationality, religion, race or sports team. As the Vulcans had it, 'Infinite Diversity in Infinite Combinations'
So there are few more depressing trends in the world today than that of sticking labels on each other. 'conservative' or 'liberal', 'rich' or 'poor', 'Christian' or 'Muslim', all of these may be partly true for some of us but are never wholly true for any of us. We are all more complex than that with more identities. To boil us down to this label or that label strips us of the rich variety of our humanity. It is debasing and dehumanising.
In large part this accounts for the increasingly divisive and bitter tone that public debate is conducted in. I'm guilty of it myself from time to time.
So in losing, or not regaining, a friendship with Gordon, I have not lost some leftie Democrat. I have lost a guy who came to see me in the plays I was in, who I introduced to Newcastle Brown Ale and who I spent long hours with discussing the novel I wonder if he wrote. I lost a guy I liked just because my politics were different from his.
As for my friend Tess, well, she's better off with her new guy. He's a lovely chap, a dyed in the wool Democrat, but we get on because there is more to us than our political views. We are all human beings. Which ever box you tick on election day, that remains our inalienable common ground.